Here at Cat Nap Inn, we love cats! We speak meow. We pride ourselves on being knowledgeable about cat behavior and devoting ourselves to providing the best personalized care for all of our guests. Through hard work and dedication, we strive to give both feline and parent a positive and rewarding experience. Our care and affection ensures all cats are well loved and pampered during their vacation!
Kolleen Fox, Owner
Kolleen Fox (pictured here with frequent guest Simon)
Kolleen opened the Cat Nap Inn facility in November of 1999.
Kolleen graduated with a Bachelor of Arts Degree in Psychology from Western Washington University, attended The American Boarding Kennel Association's Buying, Building and Operating Seminar and traveled five states and Canada touring other boarding facilities prior to opening Cat Nap Inn. She has completed the American Red Cross Human and Pet First Aid Instructor certification and has attended many, many pet-related trainings ranging from pet massage to natural cat care. She loves learning new things and staying current on cat related and pet care industry topics.
Kolleen shares her home with one dog and three cats. In Kolleen's spare time she enjoys SCUBA diving, hiking, theatre, traveling, and reading. She also enjoys good wine and considers herself a foodie even though she cannot cook.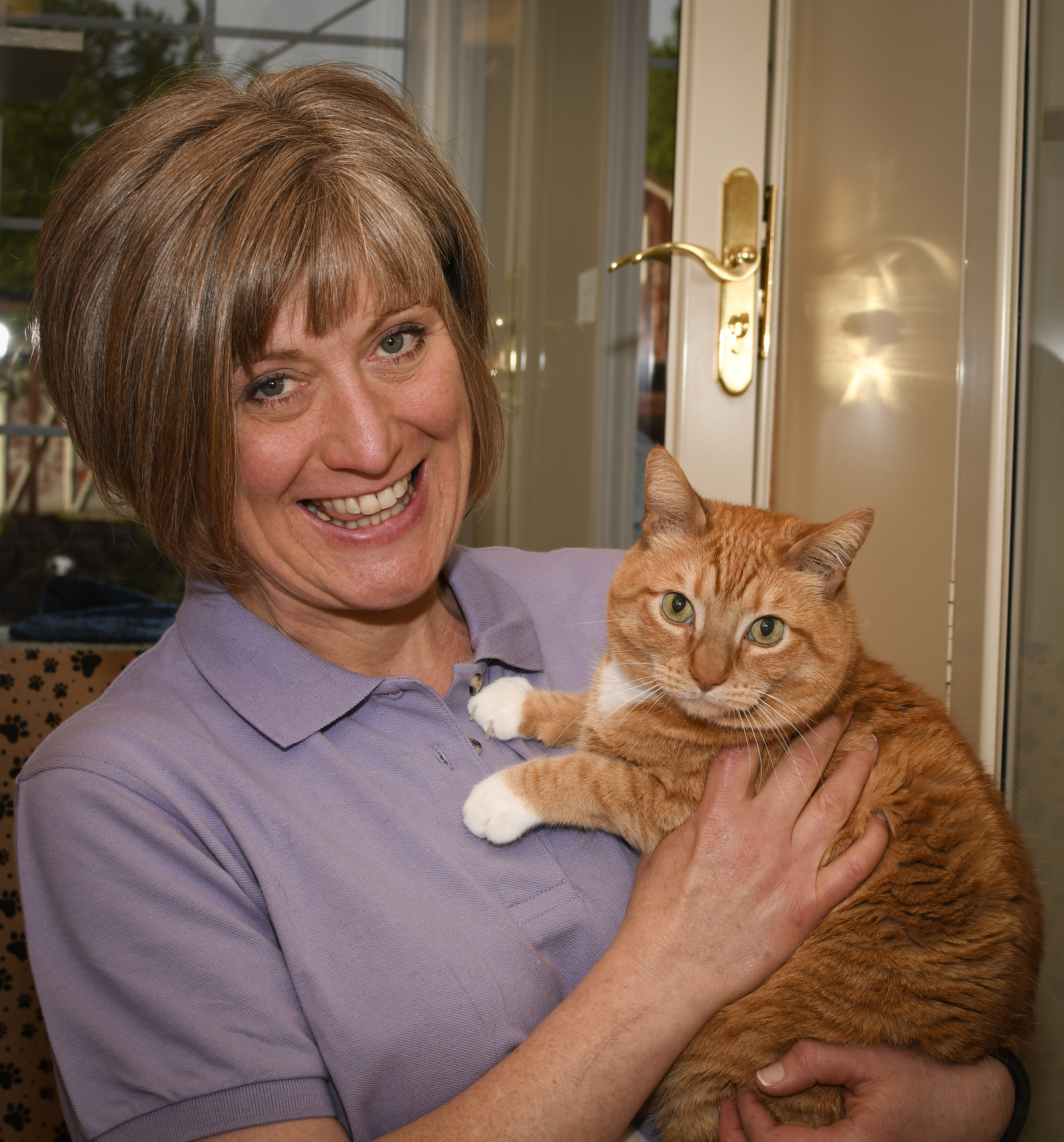 Kendra Lee, Cat Care Specialist
Kendra (pictured here with guest, Larry) joined Cat Nap Inn in March of 2016. Kendra has a large animal family including four cats, one raccoon, a family of deer and a twenty-two year old goldfish! In Kendra's spare time she enjoys raising funds for law enforcement needs, playing the piano, reading and home organizing. She is a PTA executive member and is currently writing a book.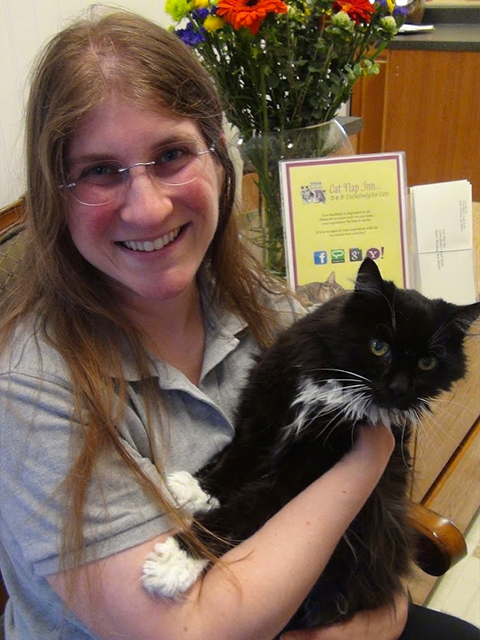 Jillian Cobb, Guest Services Manager
Jillian (pictured here with guest, Shadow) joined Cat Nap Inn in October of 2011. She graduated from Whatcom Community College with her degree in Associate in Arts and Science in 2013. Currently she is attending Western Washington University where she is working towards her Bachelor's Degree. She has been a volunteer with Saving Pets One at a Time where she was able to foster kitties and help adopt them to loving homes. She is certified in pet first aid through the American Red Cross.
In her spare time she enjoys spending time outdoors including hiking, jogging, camping, and canoeing. She enjoys reading and dancing and has a love for music. Attending concerts is always a favorite activity of hers. She shares her home with one dog and five kitties.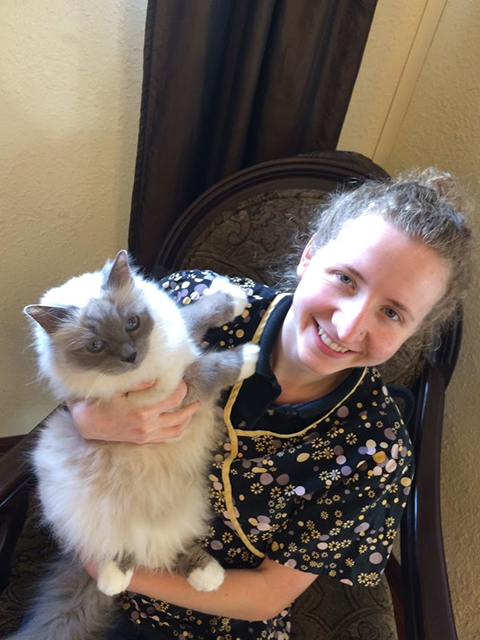 Yulia Gitter, Cat Care Specialist
Yulia (pictured here with guest, Miss Etta) joined Cat Nap in June of 2016. She graduated high school in Austin, Texas and moved to Bellingham in June to start her college education at Western Washington University. She was very involved with her local humane society with dogs as well as fostering sick or unsocialized cats so they can get their "forever home." She grew up with cats especially her most beloved large orange tabby, Yakima, and a one eyed four toed kitty, Lund, as she has always had a love for all animals, especially those that are "different." She also recently acquired a dog and can not imagine her life without the West Texas mutt. She plans on going into conservation biology for a bachelor's degree and perhaps then to vet school. Large animals of the Savannah and volunteering in South Africa are future hopes.
In her free time she enjoys doing any activities outdoors, traveling the world, and is an avid skydiver as well as a certified SCUBA diver. She also loves to bake. Working with any animals and spending as much time with her own loving animals makes Yulia a happy and contented person.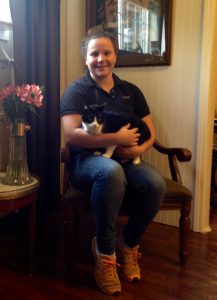 Ammon Palmer, Cat Care Specialist
Ammon (pictured here with guest, Sunny) has worked at Cat Nap Inn since the summer of 2011, mowing the lawn, weeding, and anything else he could help out with. Ammon loves to participate in theatre and has always been involved in various productions. He has a dog named Mia, a cat named Ash, a nine-year-old turtle named Wishbone, thirteen hens, a rooster named Costello, four ducks and his goldfish Felix. He is currently working on his path to become a veterinarian. Ammon loves working at the Cat Nap Inn and hopes to continue this line of work. He has an absolute passion for animals.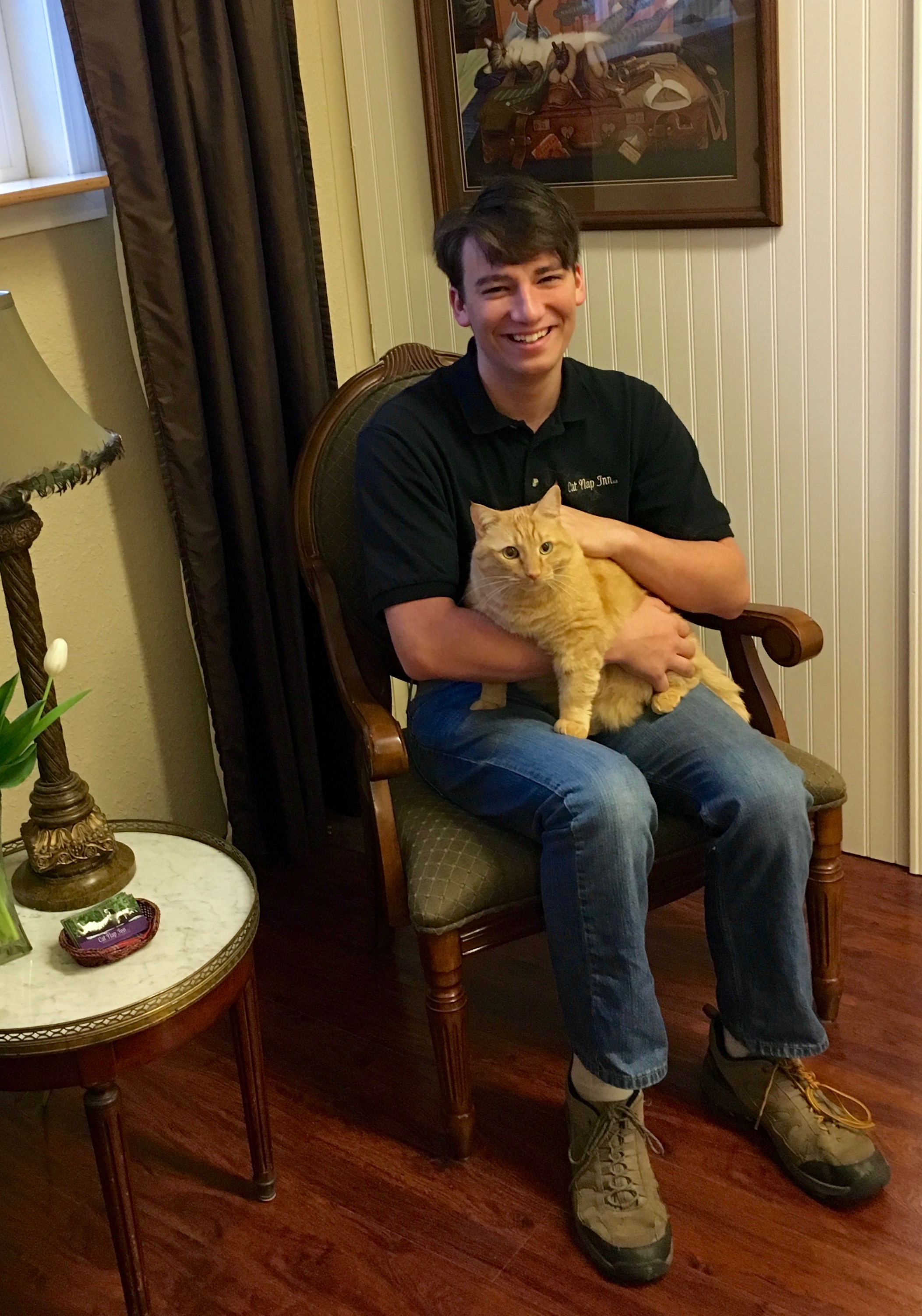 Desiree Roy, Cat Care Specialist
Desiree (pictured here with guest, Tomas) joined Cat Nap Inn in September of 2016. Desiree is a Theatre Major at Western Washington University and is always involved in a production in some way or another. Although she adores all roles involved in making a show successful, her true passion is acting.
Desiree grew up with many different animals and has had such a passion for caring for them for as long as she remembers. Currently she has a cat named Artimus, and three dogs named Della, Charlee, and Cici. In her free time, Desiree loves to paint, write poetry, explore beautiful Bellingham, and enjoy the company of those she loves. Desiree feels blessed to wake up every morning and have the opportunity to care for all the incredible cats that visit Cat Nap Inn.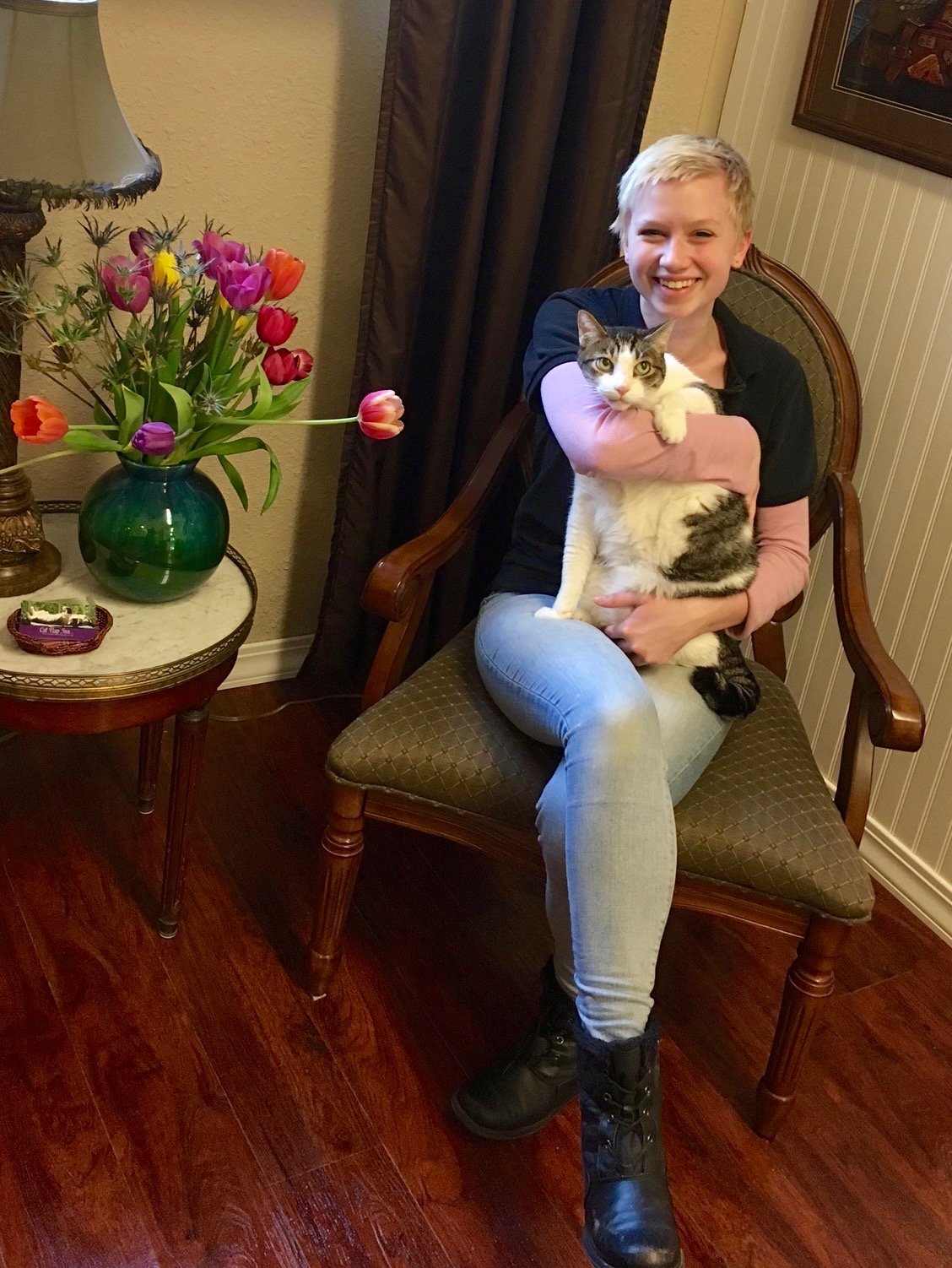 SaveSave