Here at Cat Nap Inn, we love cats! We speak meow. We pride ourselves on being knowledgeable about cat behavior and devoting ourselves to providing the best personalized care for all of our guests. Through hard work and dedication, we strive to give both feline and parent a positive and rewarding experience. Our care and affection ensures all cats are well loved and pampered during their vacation!
Brenna Walker, Owner
Brenna (pictured here with her cat Pan) purchased the Cat Nap Inn facility in September of 2019, after it was started by Kolleen Fox in 1999.
Brenna graduated with a Bachelor of Science Degree in Biology from Western Washington University and an Associates of Applied Science in Veterinary Technology. She worked as a licensed veterinary technician for 10 years before purchasing Cat Nap Inn.
Brenna shares her home with her dogs and cat. She also raises San Clemente Island Goats, a rare breed being brought back from the brink of extinction. She has sheep, ducks, and chickens on the farm as well. She enjoys hiking with the dogs and playing games with family and friends in her spare time.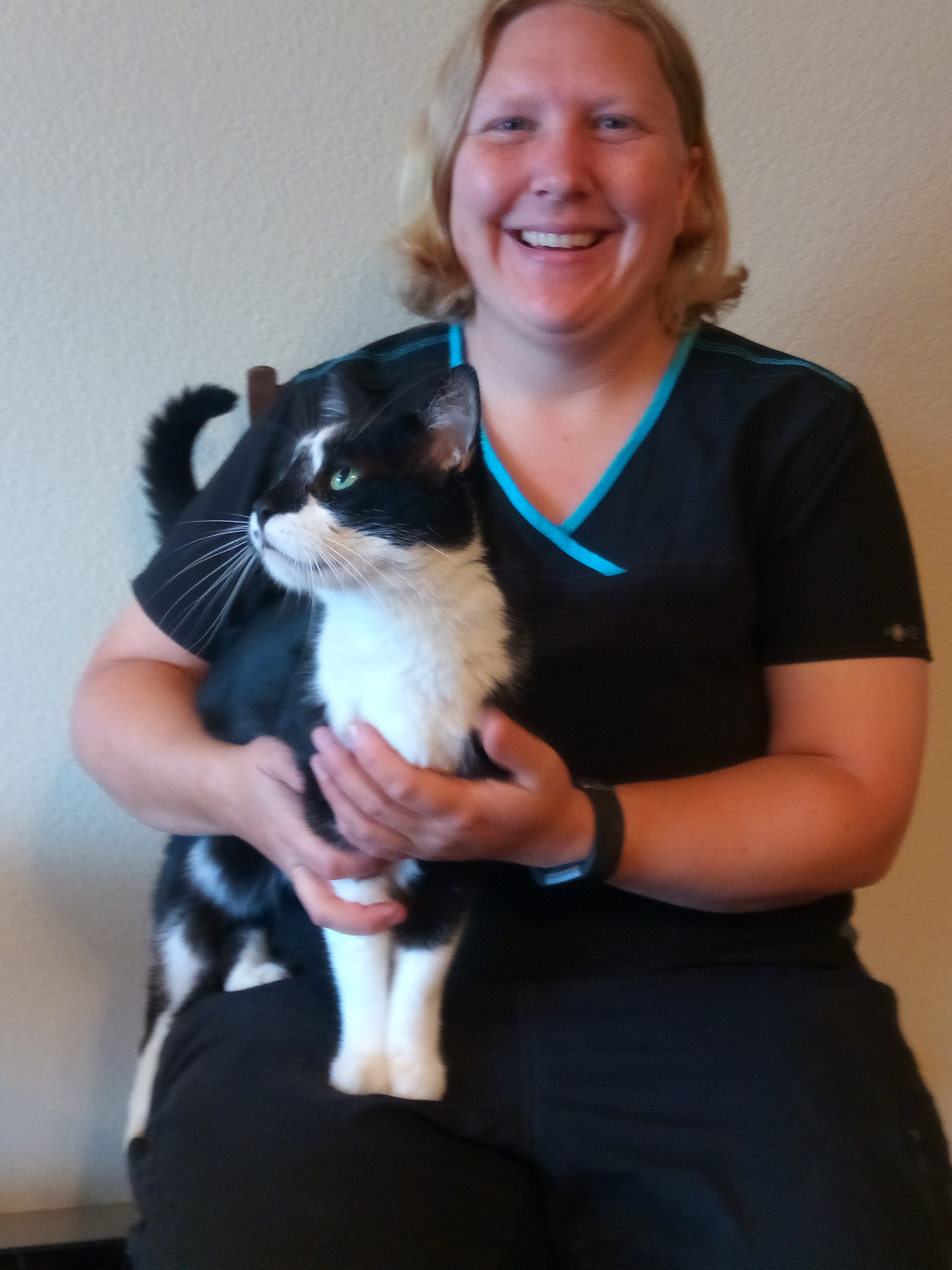 Lio Collins, Cat Care Specialist
Lio (pictured here with guest, Cardi and Lloyd) joined Cat Nap Inn in March of 2019. Lio was born and raised in Northwest Washington in the Alger area. Lio attended Skagit Valley Community College in the Running Start program, then went on to study psychology at Western Washington University, before deciding that the program was not a good fit. Volunteering at a horse rescue ranch and pet-sitting for friends led to working at a dog boarding facility, and then onto four years as a veterinarian's assistant.
With five cats, four leopard geckos, and three dogs in the house, Lio doesn't get a lot of spare time, but does enjoy knitting, spinning and dyeing yarn, and felting. Lio also likes learning about history, cosmology, anthropology, pathology, and paleobiology as a hobby. Lio is most often found knitting on the couch, listening to podcasts, with Simon the cat asleep in their lap.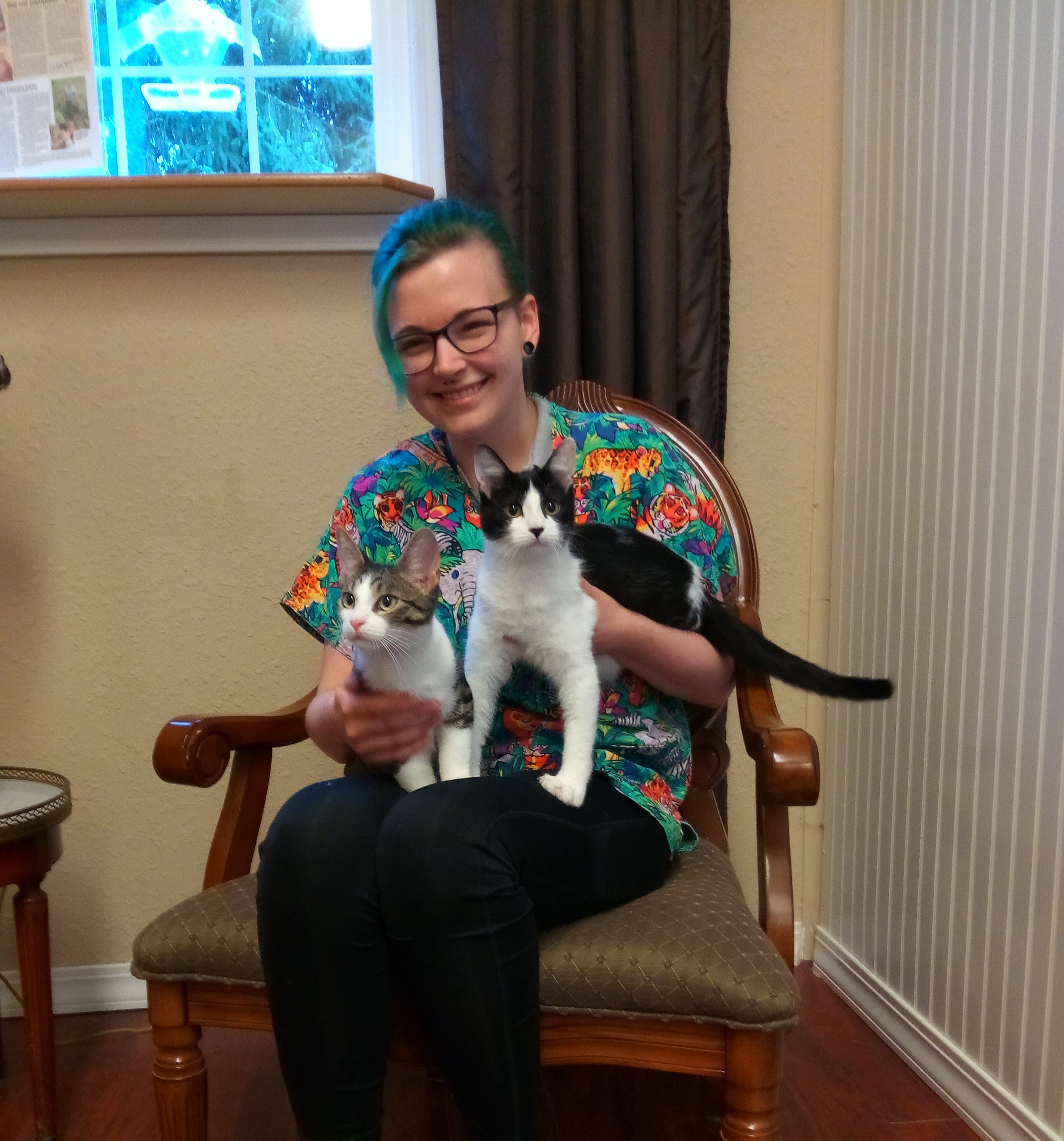 Alexis Ewan, Cat Care Specialist
Alexis (pictured here with guest, Moki) joined us here at Cat Nap Inn in February of 2019. She was born and raised in Bremerton, WA, which is an hour journey from Seattle by ferry. After graduating from Bremerton High School in June of 2018, Alexis moved to Bellingham to attend Western Washington University and study Computer Science and Mathematics.
Alexis has owned cats all her life, and her family has a soft spot for adopting stray kitties. At one point they owned 8 cats, most of which were strays. In her spare time, Alexis has several hobbies, including knitting, crocheting, needle point, painting, puzzles, watching movies with her friends and computer programming. Sadly, Alexis does not have any pets at her dorm, but she has 3 cats back home: Bob, Dirty and Mr. Anderson.