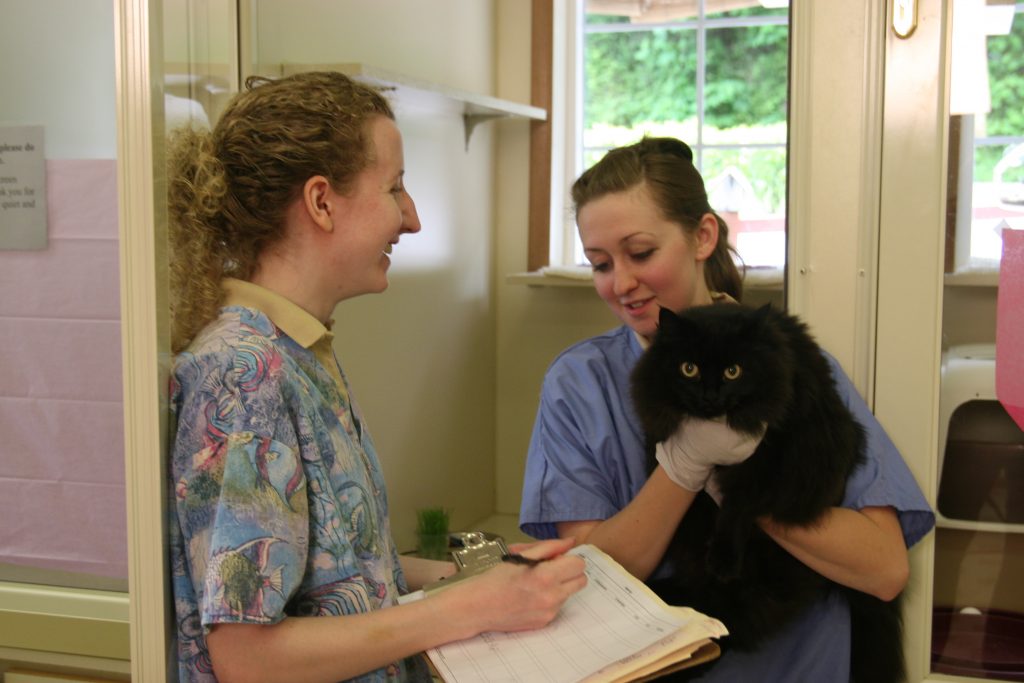 JOB:
Cat Care Specialist- DOE. Probation period is 90 days.
REPORTS TO:
Kolleen Fox
HOURS:
Monday through Friday 6:30 a.m. to 3 p.m. (set hours)
Includes holidays and occasional coverage of a weekend
This position is generally 40 hours a week but the hours can vary (more or less) as we are a seasonal business
SUMMARY:
Cat Care Specialists at Cat Nap Inn care for our feline guests by accurately recording eating, drinking and elimination and assessing the cat's mood and behavior. They also care for the cat's parents by providing friendly service during check in and check out. Our specialists also do much of the back house support (laundry, dishes, cleaning litter pans, cleaning suites in-between guests, keeping the grounds beautiful which means weeding and outside landscape maintenance). We are looking for a long-term employee, not just summer or holiday help.
QUALIFICATIONS:
At least 18 years of age.
High school diploma, experience working or volunteering in a vet clinic, boarding facility or animal shelter desired.
Ability to work alone, without supervision.
Reliability- as an extremely small facility, we will be counting on you to be here on your scheduled days. We are not on the bus line you must have reliable transportation.
Punctual- We have a very tight schedule for feeding and medicating the cats. You must be on time.
Somewhat flexible schedule-we are a seasonal business and may need extra help during the summer and around holidays or less help during quieter times.
Attention to detail.
Ability to follow direction and change gears quickly.
Be able to safely lift 40 pounds.
A positive, friendly, can-do attitude while being able to work as a team.
Ability to work with the public with a customer service focus.
Legible writing.
Strong ability to multitask.
Only non-smokers need apply.
TASKS:
Prepare food and feed cats at scheduled times. Make sure all water bowls are filled.
Monitor each cat's health and report any concerns such as wounds, fleas, worms, blood, vomit, diarrhea to CNI owner.
Administer medications as needed per description, record doses administered in appropriate place.
Keep suites clean and tidy, quickly clean up and scoop eliminations, clean suites in between guests.
Use appropriate cleaning supplies.
Assist with laundry, dishes, sweep and mop floors as needed.
Clean litter pans and associated items.
Check in and check out guests. Keep each cat's items organized and in place.
Accept and record reservations.
Accept cash and check payments from customers and accurately record payments per instructions.
Keep the grounds beautiful which includes weeding and related.
Other tasks as assigned.
*WORKING CONDITIONS, TOOLS AND EQUIPMENT:
*This position is extremely physically demanding and you will get dirty while you are working. A significant portion of the day is spent stepping in and out of the suites which are two feet off the ground. You will also need to bend, kneel, crawl and lift. Those applying should be physically able to handle these demands and others.
APPLICATION PROCESS:
No phone calls please.
E-mail resume and cover letter which includes a brief description of why, in addition to being a cat lover, you believe your experience, accomplishments and personal qualities make you a qualified candidate for the position. Please also include a brief description of your most recent animal related experience if applicable.
SaveSave
SaveSave